Bird Baths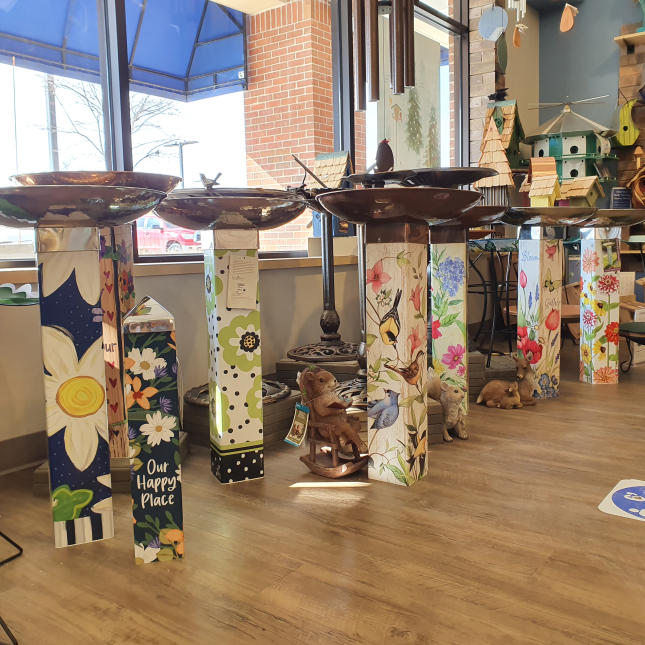 It's Always a Great Time to Provide Water
Water is very important to birds. Whether they are feeder visitors or not, birds need water. Offering a dependable source of water is probably the simplest and most important step you can take to greatly increase the variety of birds in your yard.
However, as entertaining as it is for us, water (or the lack thereof) can be deadly serious for birds. Birds must be ready to fly at all times, and bathing is a critical part of feather maintenance and staying in top-flight condition.
Water is also vitally important when it's extremely hot and a bird's ability to regulate its body temperature can become stressed.
So, while the addition of a bird bath, fountain or mister to your yard can supply hours of enjoyable bird watching entertainment for you, it may also be providing a lifesaving necessity.
We offer a variety of decorative and functional birdbaths, as well as accessories for those birdbaths like Water Wigglers, Drip and Mist, Mini Mister, solar fountains, rock waterfall fountains, brushes for scrubbing, and bird safe additives to help keep your water fresh. Stop in and consult with our experts for the best fit for your yard.
Metal Bird Bath
Metal baths are durable, versatile and can be easily moved about your yard. These baths work well with a bird bath heater and can be used in freezing conditions without cracking or breaking. They feature:
Rust Free Cast Aluminum Top
Heavy Duty Cast Iron Post and Base for Stability
All Powder Coated Finish
Available Assembled
We have a large selection and variety of colors and styles of these quality bird baths in our store showroom. Stop in to see the current selections.