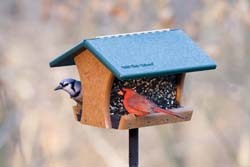 A Bird Feeding Classic
It all started with the WBU Classic Bird Feeder. In 1990, Jim Carpenter, founder, president and CEO of Wild Birds Unlimited, set out to create the perfect wooden bird feeder. He designed a stylish, durable and easily maintainable feeder that offered the one feature found in no other feeder - the ability to see bird feeding better. That day, the Wild Birds Unlimited Classic Hopper Feeder was born. We no longer offer it in wood, but instead of a superior EcoTough resin made of recycled milk cartons that are environmentally friendly. Throughout the years, we've made sure that all our feeders, whether hopper, seed tube, finch feeders, or specialty bird feeders offer that same feature - the ability to see bird feeding better. In fact, from a functional point-of-view, the following characteristics are built into all our bird feeders:
All Birds are visible to the viewer.
It is easily hung or post-mounted.
It is easy to fill.
It is easy to clean.
It is sturdy and weathers well.
Your satisfaction is guaranteed.

What's the best way to attract birds to a new feeder? There isn't a perfect answer for this question, but it's one we get a lot! There are times when you put up a new bird feeder and birds come to it within minutes. And, other times it can take months for the birds to come. You may notice the birds fly by a feeder and stop in mid-air as if to say "whoa, new feeder alert, turn back!"
Give the birds time to find the feeder and get used to its presence in your yard. Make sure the birds can see the feeder, as they find their food by sight. Try putting some seed on the ground or near the feeder. Above all, be patient!
Hopper Feeders
Hopper feeders are the classic bird feeder. They come in a variety of sizes, builds, materials and with many different accessories. The EcoTough™ Classic, Classic Too and Ranchette won't crack, fade or rot and come with a lifetime guarantee. Their specially-designed curved ends enable you to have a better view of feeding birds and the perch drains allow seeds to fall for ground-feeding birds, making for very efficient, self-cleaning feeders. EcoTough feeders and houses are environmentally friendly, high-quality products that are made from recycled, plastic, milk jugs. These feeders and houses prevent used milk jugs from making their way into our landfills.
The removable screen bottom is treated with EcoClean® Product Protection, providing 24/7 product protection. We recommend this feeder be pole-mounted due to its weight and size.
Hopper and Tray Feeders are a favorite of cardinals and larger bodied birds.
You can find this feeder and many more in store or online.
Tray Feeders are a favorite feeder style for viewing the birds and their behavior. Cardinals especially love a tray feeder. Because birds find food by sight, offering various foods in trays means that the birds find it easier.The clean lines of sight help the bird to feel safe from approaching predators, while also offering you great views of the birds eating.