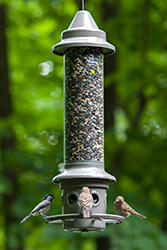 Hasta la Vista Squirrels!
Protect your bird seed bounty from squirrels with our Eliminator™ bird feeder. When a squirrel touches the perch ring, its weight closes the seed ports, foiling its seed-stealing plot. The Eliminator's unique technology allows you to set the sensitivity level, so you can also exclude large birds such as pigeons or doves and those pesky starlings and grackles that come in large flocks.
It's easy to hang, holds three and a half quarts of seed and is backed with a limited lifetime guarantee. This feeder also features a special seed ventilation system that helps keep seed fresher.
This is the last foundational feeder you will ever have to buy.... if it breaks or otherwise becomes unusable, bring it in to the store and we will get it back in working condition or give you a replacement! The Eliminator can be disassembled and assembled with no tools, and all of its parts are top shelf dishwasher safe.
Shop online, or in store, call us 913-491-4887 or come in. We offer many other types of Squirrel Proof feeders and can talk with you about other solutions such as Baffles, Cages and Hot Pepper Seeds.